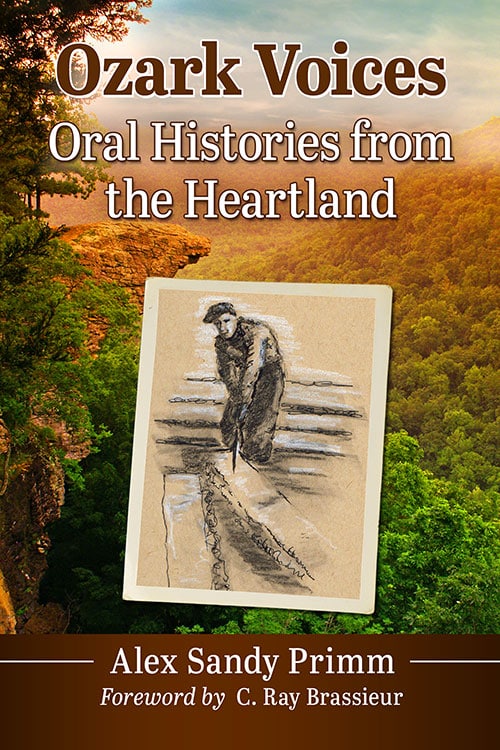 OZARK VOICES:
ORAL HISTORIES FROM THE HEARTLAND
Discover the stories passed down over time from the distinctive people of the Ozark region. Oral history is shared through the years to provide perspective on the landscape and people who inhabit the beautiful, culturally rich area.
These oral histories show essential connections among settlers in a challenging landscape. Written to inspire history buffs, outdoor enthusiasts, travelers, tycoons in training and students of all ages, this path-breaking collection will take readers deep into a region averse to change, tricky to know, yet brimming with American culture.
"Part Studs Terkel, part Charles Kuralt, Alex Primm introduces readers to regular folks whose lives are anything but. His intrepid search for the human interest story in the Ozarks and beyond brings us face to face with truly interesting humans."
BROOKS BLEVINS, AUTHOR OF THE NEW THREE-VOLUME HISTORY OF THE OZARKS AND THE NOEL BOYD PROFESSOR OF OZARK STUDIES AT MISSOURI STATE UNIVERSITY
"Part memoir, part oral history, and part how-to manual, Ozark Voices: Oral Histories from the Heartland tells the story of the people and the landscape that make up the Ozarks. Oral historian and journalist Alex Primm takes readers into the cabins, schoolhouses, and bars of the old-timers and reveals a common thread of resiliency and rugged independence that characterizes the area both then and now. A delightful read by a master storyteller, best savored on a lazy afternoon under a tree, with the river flowing nearby and a favorite beverage close at hand."
NANCY MACKAY, ORAL HISTORIAN AND WRITER
"I was charmed by reading part of your manuscript, and know you are an excellent writer with real insights to offer on the Ozarks, China and oral history."
DR. PETER RAVEN, PRESIDENT EMERITUS, MISSOURI BOTANICAL GARDEN