Ozark 'Tenore Assoluto': From Mansfield, Missouri, to Montpellier, France.
Opera has been a reach for many, especially us hillbillies. Seeing a world-class star in one of the great opera houses of Europe might just cause you goosebumps.
An Ozark 'baritenor', as he calls himself, did that to a full house in southern France on a recent perfect May evening. By the finale, the nearly sold out audience went wildly nuts, like sports fans.
Michael Spyres, who grew up in Mansfield, Missouri, seemed totally at ease on the stage of the Opéra Orchestre National near the heart of Montpellier, one of France's large elegant cities near the Mediterranean.
I had come here while en route to visit friends who make up our Springfield book club. My wife and I had a few days to fill before meeting our group. Why not come to the southern French city that celebrates Missouri grape growers for having helped restore their wine industry?
How Ozark wild grape stock saved French vineyards from a voracious pest in the 1880s makes a fascinating, complex story. More on that another time.
We had come to Montpellier's city center to get information from the main travel bureau. Nearby the ornate opera house boasted a huge banner to promote the upcoming performance of the world-class tenor, 'Michael Spyres'. We were stunned. Just a few weeks earlier we had heard Michael, his wife Tara, his brother Sean and other talented singers in 'Opera Rocks' at the nearly century-old Gillioz Theater in Springfield. This guy really does go around the world!
That was a fun pop concert. Lots of different musicians made the April 21-22 rock'n'roll quasi-opera something unique. Sean Spyres has helped his brother and others develop the Ozarks Lyric Opera into a diverse company that produces always surprising performances on a regular basis.
The Spyres family was recently celebrated by the Springfield Symphony Orchestra at a special concert, 'Power Ballads' featuring them in live performance.
I regret having to miss that, but happy to be in Montpellier for the May 16 concert which showed how Michael has won a devoted following in the opera world beyond Springfield and America itself.
Having read in The New Yorker he's played leading roles at the Metropolitan Opera in New York and other venues had impressed me. Actually seeing Michael Spyres before an audience of at least 1,500 people in this venerable French house convinced me Michael Spyres's talent is more than an amazing voice or a commanding presence. His personality comes through as he sings. He loves what he does. Nothing makes him happier than singing
While I know little about opera beyond how it combines drama with music, it's fascinating that a classically trained singer can be as inspiringly soulful as Neil Young or the late, great B.B. King. Most unique, Spyres' stage presence seems almost humble and self-effacing. His voice has a huge range of expression that is never booming like some proverbial chubby opera star. Of course he can roar like Joe Cocker. Typically Michael surrounds his singing with gentle tenderness that seeks to accurately portray feeling more than overwhelm with volume.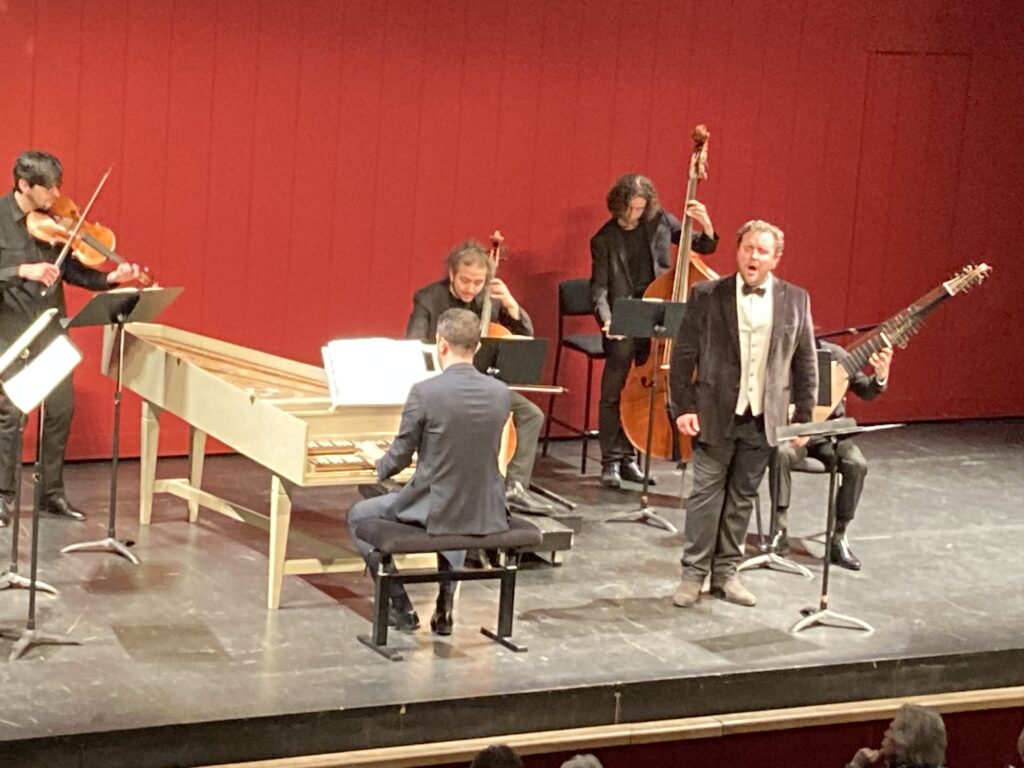 Especially impressive in Montpellier, Spyres' program for the evening included songs from a variety of sources in the 18th Century Italian Baroque era. Backing him up were the seven members of the string Ensemble Il Pomo D'Oro, led by Francesco Corti conducting from the clavecin, a large French harpsichord.
Pieces by Handel and Vivaldi began the evening. Other composers were new to me: Baldassare Galuppi, Nicola Porpora and others. Michael sang more than a dozen numbers.
While he had an iPad on a music stand, he rarely looked down at it. He must have sung for an hour or so total. That's a lot of text to remember; some in French others in English or Italian. Did he flub a line? I doubt it. The response and applause grew stronger and more enthusiastic with each piece during the half-and-a-half performance.
Occasionally Michael took a break while the consort played an instrumental number. One guy on a huge lute called a théorbe seemed to enjoy duets with the cello player.
"These pieces sort of sounded all the same after a while," Cathy commented. I had to agree to an extent, because the Baroque era features music meant for royalty and small drawing rooms. No drinking songs, and many numbers had a plaintive feel of lamenting lost love, which can become tedious.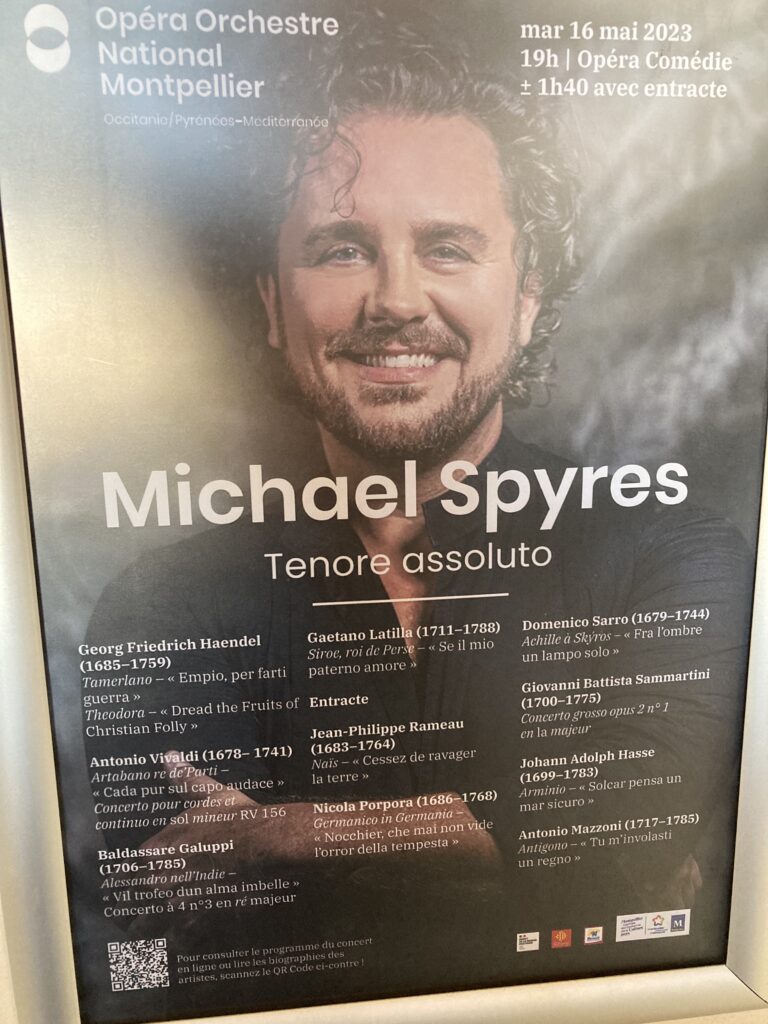 This genre seems to encourage diverse emotions, from meditative introspection to joy and sorrow. Rock'n'roll makes me feel like dancing, which is a lot of fun. On the other hand, opera seems to offer a different range of feeling that requires patience and introspection, traits I lacked when I was listening to every rock or bluegrass band possible.
Hearing such formal songs in a concert hall nearly as old and ornate as the music itself created a wistful, liminal evening. Knowing that the featured performer in Montpellier still in part remains a good ol' boy from the Ozarks added an inspiring aspect to the performance. He impressed me as a man who has come a long way from Mansfield, Missouri, with his roots intact. He shares his soul on stage with rare skill.
By the end of the evening, Michael was all smiles and hugged Franceso Corti as his consort had provided excellent backing.
The hall stood erupting with cheers of 'Bravo' just like in the movies. But at the same time, the elegant opera house almost rocked like a stadium as the crowd automatically began clapping in cadence. Amazing, could they all be football fans? The consort returned to the stage from the wings to take additional bows with Michael, who smiled broadly. The crowd won a cheery ballad as an encore with Michael introducing it in what sounded like perfect French.
The audience was a good part of the show for Cathy and I. It was a mixed group though mainly older. Some were formally dressed, some wore shorts and a T-shirt, we noticed while walking around the elegant but somewhat bedraggled opera house during the intermission. [A huge modern one opened nearby a few years ago.] A few younger women wore long gowns.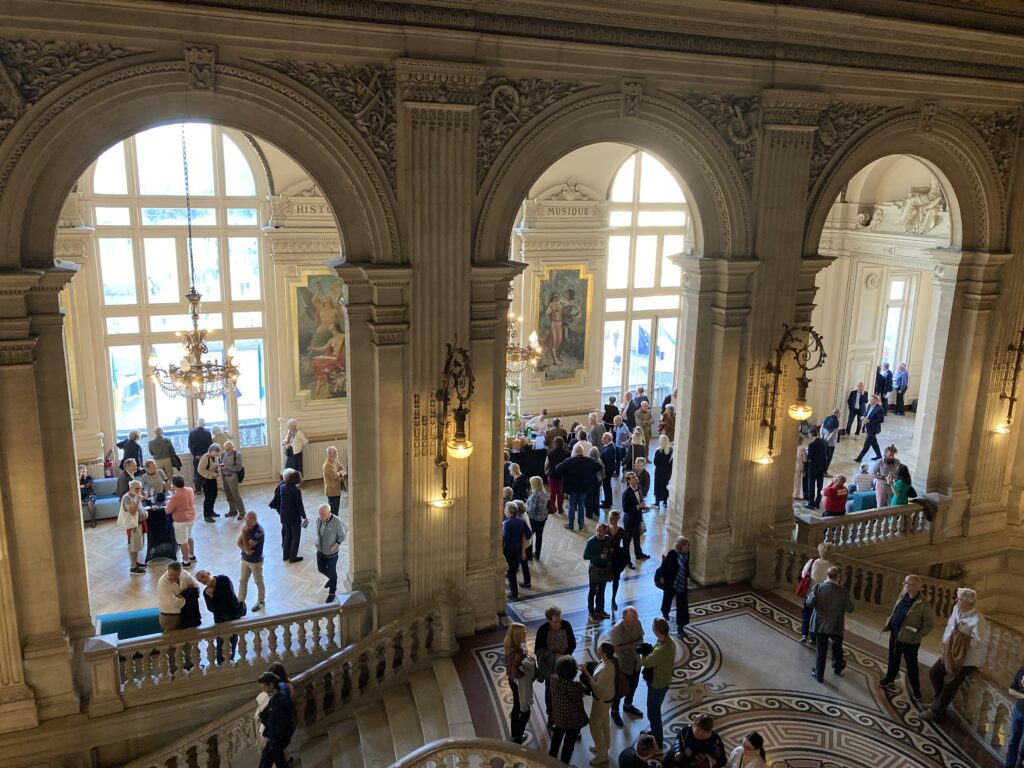 Everyone was taking cell photos of each other and the venerable opera house, tourists and locals alike. One of the oldest and largest cities in France, Montpellier has a diverse population with many Muslim, African and other residents, plus many students at the world's oldest university medical school. Near the opera house, the large historic downtown is pedestrian only, creating a diverse scene of bars, cafes and art galleries. Party central!
As we filed out, we couldn't help but notice the Ukrainian blue/yellow flag flying proudly with the circle of stars that make up the European Union flag.
Luckily, love, peace and the Italian Baroque prevails in southern France.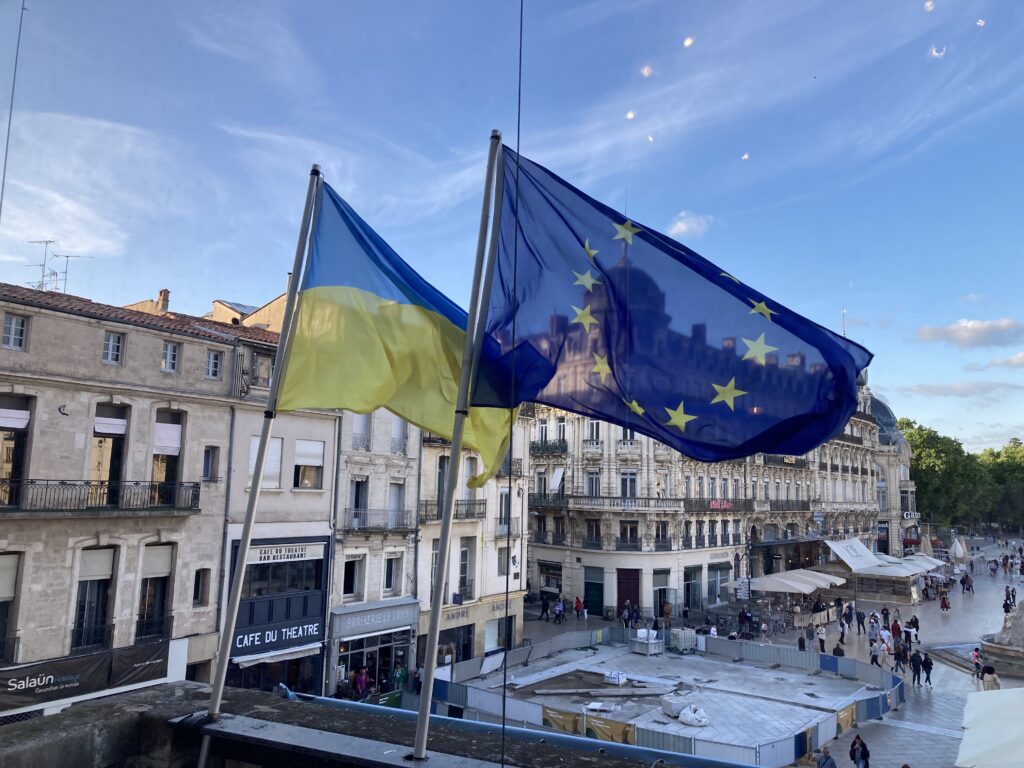 A week after Spyres' Montpellier concert Cathy and I met up with our book club near Bordeaux. We learned more about Michael's career.
"He's just an amazing singer who makes the hair stand up on the back of my neck," said Bill Griffith, chef and former owner of The Farmers Gastropub.
"I still remember him singing an aria at our restaurant one Christmas Eve at its original downtown location," Bill recalled. In 2016, seven years after their opening, Bill and his wife Christina sold the popular pub, which still specializes in continental cuisine with Ozark-grown produce.
"Michael, his new wife Tara and some of his family and parents were all there for a traditional British dinner. We always sang Christmas carols after the holiday dinner. I remember Michael and his parents leading us all. Then I asked if he would sing 'Nessun Dorma' from Puccini," Bill recalled a fond memory.
"At first Michael demurred. It was too much like his work, he said. But then he just let loose. The whole restaurant joined in singing the chorus. Christina was standing just a table away, listening and totally thrilled. It was so emotional and beautiful!"
That quality of creating a physical reaction may be what I most remember about his performance in Montpellier. I'd be listening to some eerie song in Italian I didn't understand. All of a sudden unexpected emotions would cause me to almost choke up. This music creates thoughts that go beyond words.
Also impressing me was looking at Michael Spires' personal webpage for the first time. Making few claims or larding it up with favorable reviews, the site noted the same concert from Montpellier was to be offered in the following few days this May at London, Antwerp and Berlin. His performance schedule over the last year would make Bob Dylan look lazy.
Along with describing a large array of digital recordings, Spyres' site prominently mentions his role with the Ozarks Lyric Opera company. Take a look, an Ozark guy has reached the top.
With Missouri State offering an opera program as part of the music major, Springfield may offer more opportunities to hear hair-raising music in venues around town in the future.
Much easier than flying to France. At least wine's a bit cheaper across the Atlantic.