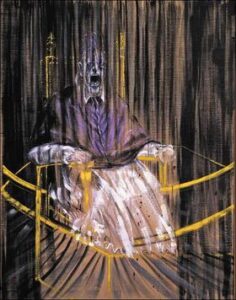 This day of remembrance recalls twelve years ago when the Ozarks suffered a derecho. This squally system with dozens of tornadoes toppled millions of trees, smashed property, totaled our car and destroyed our solar collectors but thankfully took just one human life. In my forthcoming Ozark Voices: Oral Histories from the Heartland I write about this. Roaring during mid-morning on May 8, 2009, from Kansas across southern Missouri, the storm still howled near Garden of the Gods in Illinois.
Maybe this is why I need biscuits and gravy. The ultimate comfort food.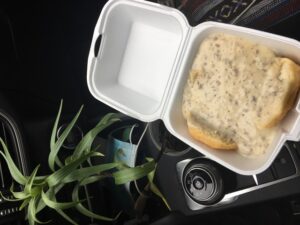 Do these floury puffs with slightly greasy ambrosia have any food value? It depends on the maker, of course.
This morning one of the sellers at the Mountain View Farmers Market had a warm plate with biscuits and big cooker of gravy. Hunks of sausage floated with flecks of hot pepper.
I also bought a tiger lily plant and asparagus. Farmers markets always inspire.
The chilly morning benefited from this simple homemade sustenance. That's what we did at Greenwood after the storm. One couple opened their home to neighbors. We pot-lucked for several days to rescue food going bad from defrosting freezers. We chain-sawed the roads clear of downed trees, and created huge brush piles for wildlife all the while looking forward to restored electric power.
X X
An unexpected blast that almost knocks you over presents the ultimate challenge. How to move ahead when everything's going wrong?
Why mess around? Why try to double guess current medical guidelines? Focus on what's possible and drop everything else. Our lives are so short that ultimate value has to go to those living here now.
The human family is so fragile, it takes constant nurturing. As Jimi Hendrix sang at Filmore East on New Year's Eve, 1970, "We gotta live together!"
X X
This is what moves me in the new biography of the British painter Francis Bacon, Revelations by Mark Stevens and Annalyn Swan, 800+ pages published this spring.
Everything is blowing apart. Bodies are ripped up like pieces of meat at a butcher's shop. Isn't Bacon's vision perfect for our times?
We can still find beauty and natural processes which bring Tennessee Warblers and fresh asparagus this spring. But feelings of unease, doubt, and mistrust have become rampant and undermine simple truths.
COVID 19 has brought some latent fears to the forefront. Some of us don't know who or what to trust.
What is the pope screaming about in Bacon's many portraits of the prelate? This should haunt us all.
Luckily it's not too late to make changes. Human families can be saved by simple phone calls much less visits in person.
Most of all the human touch, a hug and a promise to spend time enjoying one another revives new possibilities. Grits and red beans. Sausage and gravy. Vaccine and science.
We gotta live together!