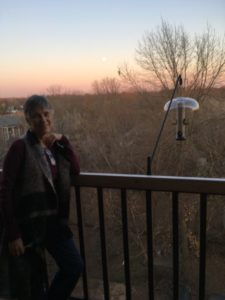 For the first time in some 40+ autumns I don't have to organize the cleverly designed mini-solar collectors which fall from wooden structures dotting my current domicile. No more stuffing these useless ruins of spring and summer into plastic bags or schlepping heavy rotten canvases with organic materials into piles or compost or some unknown public receptacle to handle this nasty, wasteful product of arboreal excess.
Yes, I am no longer a home owner. I'm back in an apartment.  Same same as after surviving the Nam and going back to school courtesy Uncle Sam. I am free of taking care of structures and their surrounding manicured landscapes almost.
I've worked these decades to be back where I was so long ago. But yesterday I backslid. I picked up a leaf rake and used it. I didn't have to do it, but I did it anyway. It sort of felt okay.
Over the summer Cathy and I sold our house. We found a penthouse just a block away from our 104-year-old antique edifice near Springfield's oldest suburb, Rountree.
A bucolic neighborhood of tree-lined streets near Missouri State University, this community can't help celebrating timber in all forms. Most of the homes are tidy wooden bungalows, the first American housing style to sweep into popularity from the West to East Coast. Most have a fireplace, to offer a spirited gathering place for family and friends around a cheery blaze.
But our house was more an American Four Square, without a fireplace. No place to burn up those sticks constantly falling off the ancient sycamore in the back yard. I found ways to incinerate those pesky branches. And quite a few leaves too.
The previous owners left behind a fire pit. Recreational burning and bar-b-q is legal in such a safe metal cavity.
Two autumns ago I raked up a bunch of sticks and burnt them one fine afternoon. When the coals were out later that evening, I dumped the ashes into our compost pile; handy for a small garden.
Sometime after midnight: loud pounding on the back door.
I hurried into the kitchen. It was a neighbor from down our alley.
"Your compost pile has caught your greenhouse on fire!"
Right away I knew what had happened. Luckily I had a hose hooked up and was able to douse the flames and save the 8×14' greenhouse made from recycled windowpanes.
It was a close call. Our bike shed was the other half of that structure, a big old plastic tool house was nearby and my truck parked next to that.
What a great neighbor!
The next day he explained, "I had been out late with friends at our new neighborhood brewery. I got up to take a whiz, smelt the smoke and saw the flames. I had a few minutes to wake you, then was going to call the fire department."
A great neighbor indeed! A fire department visit would have awakened the whole neighborhood and may not have been as quick as the handy garden hose.
Yesterday I recalled this incident while raking up a few leaves at our cabin in Shannon County where Cathy and I lived for a few years before ticks and chiggers drove her bonkers. I didn't ruminate on that close call, but instead remembered carefully burning the woods around our house outside Rolla where we had lived for 20+ years.
I'd rake long rows of leaves in winter, cover them with tarps, then uncover and burn after rain or snow. Burning the forest floor allowed lots of wild flowers and grasses to flourish come spring.
Or I thought about growing up in St. Louis County where one autumn our Cub Scout troop made money raking yards. We liked to have huge piles of oak leaves we could run and jump into.
Where did those piles of leaves end up? I wonder where the leaves of Shannon County will end up if I don't rake mine.
They will blow with strong winds probably deep into hollows to create more trees, mushrooms, wildflowers… hideouts for insects and other critters waiting on new warmth.